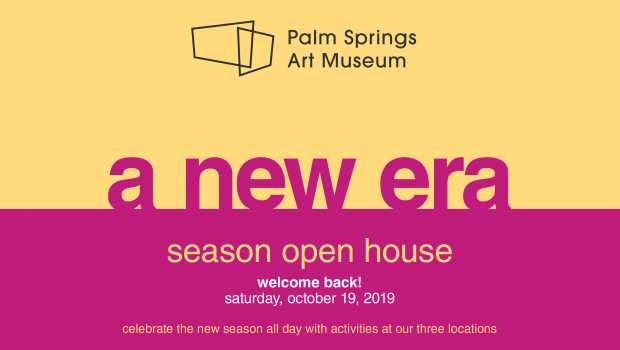 Come celebrate the new season with multi-site activations at the Palm Springs and Palm Desert locations.
10:00 a.m. – 12:00 p.m.: Architecture and Design Center.
In celebration of the Barbara Stauffacher Solomon. Breaking all the Rules. exhibition, come ping pong in the Trina Turk Gallery and outside at the A+D Center Plaza. In addition, there will be music and art activities. Please visit the Vault Design Store for more information about the books being featured.
Exhibition engagement: 11:00 a.m. | A conversation with artist Nellie King Solomon about her mother, Barbara Stauffacher Solomon, supergraphics, and ping pong with Brooke Hodge, Director of the Architecture and Design Center.
12:00 p.m. – 5:00 p.m.: Palm Springs Art Museum
Experience Brave New Worlds: Explorations of Space, Contrasts: Promised Gifts from the Kaplan – Ostergaard Glass Collection and Touching History: Stonewall 50 exhibitions. There will be Brave New Worlds artist book signings, Artist and Curator talks in the galleries, docent tours, music, giveaways to members, new members sign-ups, art activities in the Sheffer/ Scheffler Education Center, and museum members get to enjoy special museum store and Persimmon Bistro Restaurant discounts.
Exhibition engagement:
1:00 p.m. | Exhibition walk through of Brave New Worlds with artists Victoria Fu & Gisela Colon.
2:00 p.m. | Brave New Worlds catalogue signing with artists Kelly Akashi, Gisela Colon, Victoria Fu, Karen Lofgren, and Adee Roberson.
3:00 p.m. | Touching History artists conversation with Marcela Pardo Ariza, Robert Andy Coombs, Jonathan Molina-Garcia, Kang Seung Lee, and Joey Terrill in the Annenberg Theater.
10:00 a.m. – 5:00 p.m.: Palm Springs Art Museum in Palm Desert
Enjoy free admission, member giveaways, docent led tours of the exhibitions and self-guided tours in the Faye Sarkowsky Sculpture Garden. Please note this will be the final weekend to view the Shoulder to Shoulder: Depicting the Figure exhibition.
Free Ticketed Event (All Day)