Presented as part of our Public Programming offerings, every third Sunday of the month we feature artmaking and creative workshops, music, and other activities for kids, teens, and families+.
Artists, creatives, makers, and musicians will produce activities and workshops throughout the museum. Families, friends, and all are welcome.
See workshop details below.
Attendees must register in advance.
Workshops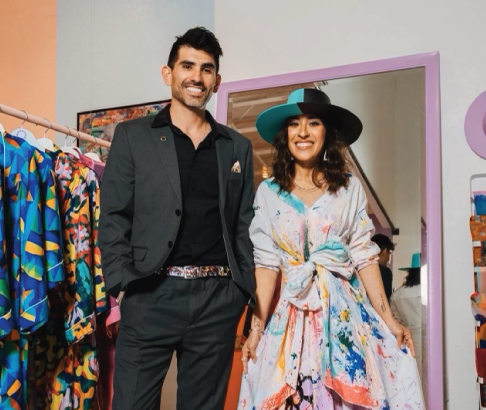 Splatter Painting with Superbloom
Rubenstein Studio and Rich Studio
Let your creative bloom as you paint-splatter your own kaleidoscope using the ten vibrant colors of Superbloom. These optical instruments will produce mesmerizing patterns of light. Superbloom is a showroom and gallery located in Palm Springs, California featuring works that focus on color, meaning, and self-expression.
Times:
1:15 - 2:15 p.m.
2:30 - 3:30 p.m.
3:45 - 4:45 p.m.

Dance Workshops with Chris Bishop
Palm Springs Art Museum Annenberg Theater
Join Chris Bishop for a dance and movement session. Learn about the evolution of a street dance style called Popping. He will show you basic Tutting variations, a style within Popping influenced by the angular movements and poses seen in ancient Egyptian art.
Times:
1:15 - 2:15 p.m.
2:30 - 3:30 p.m.
3:45 - 4:45 p.m.

Explore LIGHT + CHANGE with Phillip K. Smith III
Join us for a special tour of LIGHT + CHANGE with Phillip! Families with children are encouraged to participate. This is a special tour for families. Please reserve space for adults with young museum explorers.
Times:
2:00 p.m.
3:00 p.m.

Polaroid Portraits with Caroline Gomez
Explore the exhibition Phillip K. Smith: LIGHT + CHANGE, and then have your portrait taken by photographer Caroline Gomez as she snaps your silhouette using instant film. Drop in and say hello!
From 1:30 - 4:30 p.m.
No Registration Needed
All-Day Activities
Family Workbook Phillip K. Smith III: LIGHT + CHANGE
Create your own mosaic art piece using colorful paper tiles.
Color a drawing of the Palm Springs Art Museum inspired by the architecture of E. Stewart Williams and created by Danny Heller, a Coachella Valley artist.
Face painting with Rainbow Bridge Smiles.
Photobooth with Party Life Photobooth.
Balloon Creations with Balloon Boss.
Music by Femme A

This program is made possible by a grant from The Donald A. Burns Foundation.