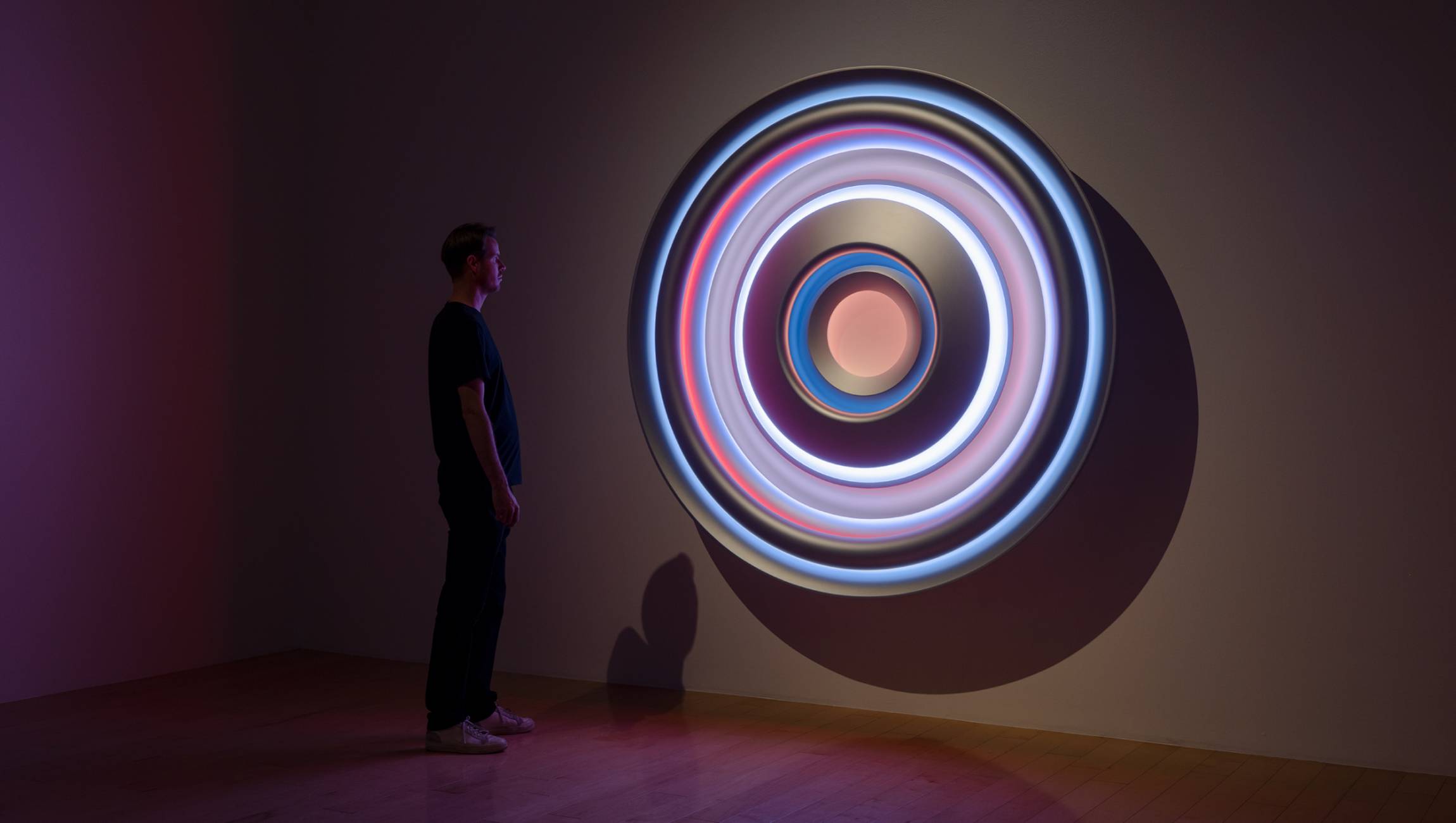 This survey of Phillip K. Smith III's spectacular experiments with light and change spans almost two decades from 2004 to 2022.
Presented throughout four galleries, this selection of free-standing objects, wall-mounted works, and immersive installations demonstrates the breadth of the artist's mastery of his medium. Phillip draws from elements of painting, sculpture, and architecture, and deploys a pared-down vocabulary of pure forms, reflective surfaces, and continually changing colors to create absorbing perceptual and atmospheric effects.
Inspired by the daily light phenomena of the desert, many works slowly shift from hue to hue as determined by Phillip's precisely paced color choreography.
All of his works have an elusive, ephemeral quality to them. As the light and the perspective of the viewer shift, so the form and perception of the works fluctuate--creating an ever-changing experience.
Born in Los Angeles and raised in the Coachella Valley, Phillip currently lives and works in Palm Desert, California.
A frequent visitor to Palm Springs Art Museum as a child, Phillip continued his involvement as an adult. He served as president for the first five years of the former Architecture + Design Council and was artist-in-residence at the institution in 2010, where he created his first light-based work, Aperture.
The exhibition Light + Change originated in 2019, when Louis Grachos and Rochelle Steiner invited Phillip to present a survey exhibition at the museum; it was scheduled for 2020 but postponed because of COVID.
In 2020, Phillip was invited to join the museum's board of trustees.

Free tour with Admission
Join our museum docents for a 1-hour guided tour of the exhibition. Thursday to Sunday at 1:00 p.m.