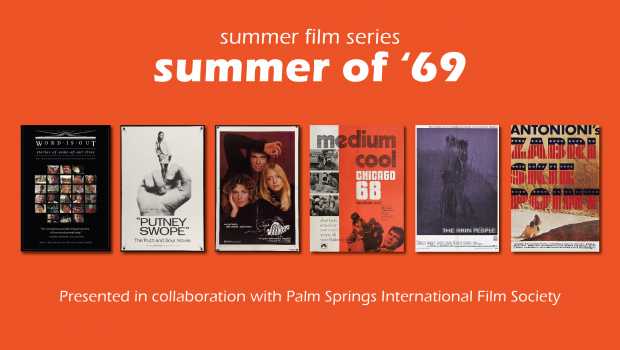 Palm Springs Art Museum Summer Film Series:
Summer of '69
It's free, it's fun, and it's all about the '60s. Celebrating 50 years since the end of the '60s with films reflecting the climate of the time. Presented in collaboration with Palm Springs International Film Society at the Annenberg Theater bi-weekly on Thursday Nights. First come first serve so get there quick.
Hats Off to Hollywood (1972)
Director: Penelope Spheeris
Penelope Spheeris will be doing a Q&A after the projection.
This short film brazenly and brilliantly mixes documentary reality with fully staged recreations/reimaginings of episodes in the lives of Jimmy/Jennifer and Dana, a loving, bickering couple who challenge the notion of homonormativity. Drugs, poverty, disease, bigotry, and prostitution all figure into this disarmingly candid and often hilarious film, a remarkable work that is the apotheosis of director Spheeris' early work
Word Is Out (1977)
Director: Nancy Adair, Andrew Brown, Rob Epstein
The Stonewall riots of 1969 provoked LGBTQ activists to fight for public visibility and civil rights. This landmark documentary, released just eight years later, brings together two dozen men and women of various backgrounds, ages, and races talk about their sexuality and identity. Their stories are arranged in loose chronology: early years, fitting in, disclosing their sexuality, establishing adult identities, and reflecting on how things have changed and how things should be.