POSTPONED | Mixed Media Abstract: Discovering Wabi Sabi with Lisa Agaran
<

All Events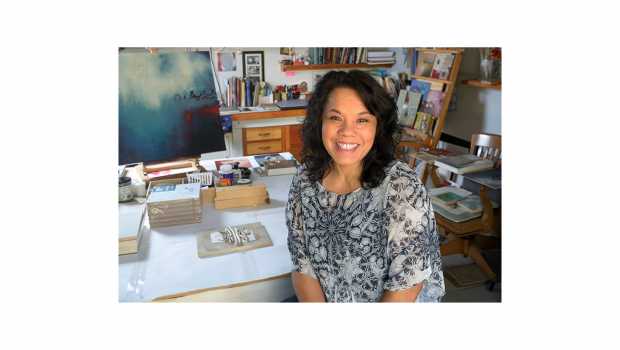 ---
In response to evolving Coronavirus (COVID-19) health concerns, Palm Springs Art Museum is postponing and rescheduling events, classes, and lectures through the end of March.
---
Mixed Media Abstract:
Discovering Wabi Sabi with Lisa Agaran
Intermediate to Advanced | Supplies Required
Wabi Sabi is a Japanese philosophy that believes beauty is found in what is naturally imperfect, aged and weathered. In this workshop, you will create two abstract pieces incorporating different mixed media techniques, acrylic applications, textiles, and found objects. Recreate surfaces with textures that have an unrefined feel and appear weathered and aged. You will also create your own collage materials through mark making and tearing. Combine these elements along with the use of basic abstract principles, such as composition, color harmony, texture, and balance to create an abstract piece that captures the feel of Wabi Sabi.
Prior experience working with acrylic paints, mediums and color mixing is recommended. A basic color mixing lesson will be covered for students with little or no color mixing experience.
Lisa Agaran is a professional mixed media artist and instructor. Her work has been shown in both solo and group exhibits throughout Los Angeles and New Mexico. Lisa's work has been published in Incite, Dreams Realized: The Best of Mixed Media and Incite 3: The Art of Storytelling (North Light Books). She has a BFA from Art Center College of Design in Pasadena and a Masters in Psychology. Prior to her art career, she worked as a therapist, creativity coach and graphic designer. Lisa also taught one of the core certification courses at the Creativity Coaching Association where she also trained under renowned Creativity Coach, Eric Maisel. Lisa continues to produce original mixed media artwork that blends her own photography, various techniques, and found objects. She strives to create work that invites the viewer to experience the depth, meaning, and process of each piece. Lisa also teaches a variety of mixed media workshops and leads an annual Mixed Media Retreat Awaken Your True Creativity in Cambria, California.
To view Lisa's artwork, visit http://artbylisaagaran.com/.
To learn more about her workshops, visit: http://truecreativitywithin.com/new-wabi-sabi-abstract/
Required Materials:
(2) 12 x 12-inch cradle wood panels or gallery wrapped canvases
Acrylic Paint – a variety of your favorite colors, black, white, raw umber, unbleached titanium, and yellow oxide or yellow ocher (any brand)
Small bottle of black fluid acrylic paint (or simple Americana Acrylic paint)
9 x 12-inch pad of mixed media paper 90 lb. weight or less
Paintbrushes – a variety of sizes and styles
Sea Sponges – a few different shapes and sizes
Painting palette – a butcher tray or white plastic disposable plates to mix paint (not palettes with separate compartments or cups, these are difficult to mix acrylic paint)
Old towel, rag or paper towels for drying paintbrushes and sea sponges.
Gesso
Cheesecloth (small package)
Spray bottle for water
Acrylic Matte Medium, Mod Podge (Matte) OR Matte Decoupage
Folkart® Crackle Medium
Found objects (see found objects sheet)
Prior to the workshop begin to gather a collection of found objects. This list is just to give you some ideas on what to look for. Look around your home, you might just be surprised what treasures are hidden in your drawers. Keep in mind objects should have a flat surface side for adhering to your artwork.
Ideas for Found Objects:
Pebbles/rocks
Feathers
Leaves
Broken tile/ceramic pieces
Buttons
Screws/nails
Wire
Bolts
Small chain
Vintage items
Old metal pieces
Sea glass
Seashells
Driftwood
Old clothes pins
Small branches
Keys
Knobs
Dried flowers
Vintage spoons
Coins
Hinges
Bones
Egg Shells
Seeds
Chop Sticks
---
Registration is available online, in person at the Box Office,
or by phone at 760-325-4490.
For questions or more information please contact Hilary Roberts at hroberts@psmuseum.org or call 760-322-4850.