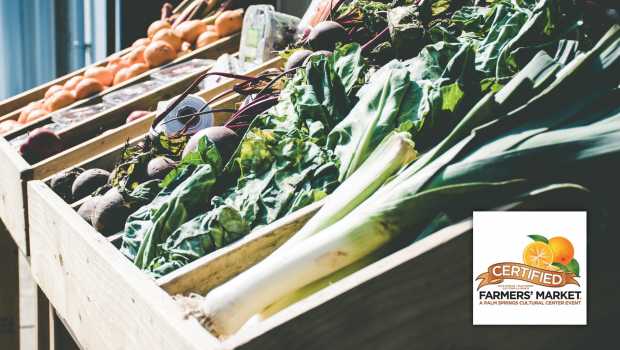 Located in the Palm Springs Art Museum in Palm Desert's Faye Sarkowsky Sculpture Garden, our Wednesday Certified Farmers' Markets are the Coachella Valley's only State and County Certified Farmers' Markets.
The market brings local farmers and vendors together to showcase the fruits of their labor. As a community, we can gather to celebrate the importance of nutrition, fresh produce and accessibility.
The market features farm fresh fruits and vegetables, and artisan value-added food products—all sourced from California. Herbs, cheese, pastries, honey, nuts, eggs, olive oil, chocolate, soap, fresh cut flowers, live music and much more!
"Certified" means all the produce from participating farms in the markets has been grown at California farms which have been registered and inspected by their county Agriculture Departments. In addition, almost all the CFMCV farms are located within a 100-mile radius of the Markets (thus reducing the carbon footprint), and many products sold are USDA Certified Organic.