Desolation Center screening and live performance by Yawning Man
<

All Events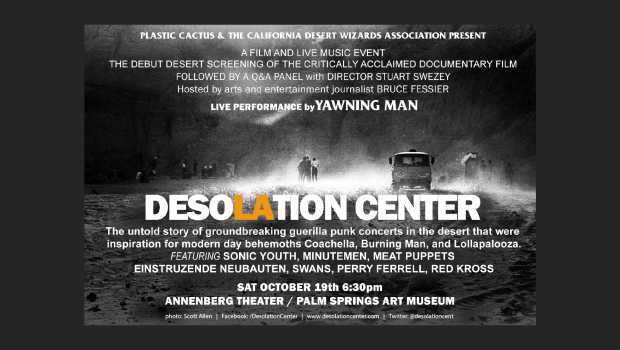 A film and live music event
Desolation Center film screening:
Plastic Cactus Productions / The California Desert Wizards Association presents the regional premiere of the critically-acclaimed documentary film about the origins of the desert music & arts festival movement. "Desolation Center," a documentary by filmmaker Stuart Swezey is the previously untold story of a series of early '80s guerrilla music and art performance happenings in Southern California that are recognized to have paved the way for Burning Man, Lollapalooza and the Coachella art and music festivals, collective experiences that have become key elements of popular culture in the 21st century. The feature documentary splices interviews and rare performance footage of influential artists including Sonic Youth, Minutemen, Meat Puppets, Swans, Redd Kross, Einstürzende Neubauten, Survival Research Laboratories, Savage Republic.
LEARN MORE ABOUT DESOLATION CENTER
---
Q&A
The Film will be followed by a short Q&A with director Stuart Swezey and artists central to the film and music movement, conducted by former Desert Sun arts and entertainment writer Bruce Fessier.
---
Live performance from desert legends Yawning Man
Directly following the screening and Q&A will be a live concert performance in the Annenberg theater by Yawning Man.
Yawning Man has been called the Coachella Valley's most influential desert rock band, inspiring Queens of the Stone Age, and countless other artists around the world. The bands unique sound is a cinematic and expansive reflecting the desert canyons where it was created.
---
Price: $30
Visit or Call the Annenberg Theater Box Office for Tickets
760-325-4490