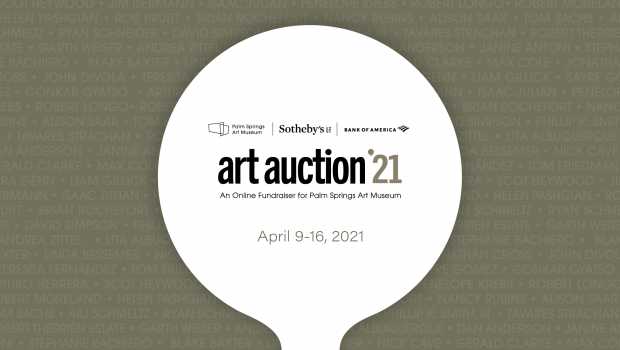 Palm Springs Art Museum is proud to announce an exciting new fundraiser: Art Auction '21 which will open online on Friday, April 9, 2021 and culminate on Friday, April 16.
Auction opens: Friday, April 9, 11:00 a.m. PST
Auction closes: Friday, April 16, 11:00 a.m. PST
Proceeds from this online event will provide vital funding to mount our exhibitions and educational programs, as well as to care for our world-class collection of artworks. And, in recognition of the worldwide impact of COVID on artists and their practice, we are offering participating artists up to 50% of the hammer price on the sale of their work. Your participation helps make all of this possible.
For this year's online auction, we are delighted to partner with Sotheby's.
The auction will include an array of artworks by today's most notable artists from around the region, across the country, and internationally. Approximately 40 artworks that range in value from $5,000 to $100,000 will be made available that will appeal to a broad range of collectors. These pieces will be curated by the JoAnn McGrath Executive Director/CEO Louis Grachos and Chief Curator Rochelle Steiner, who bring decades of experience organizing successful auctions.
Participation in the auction is free and instructions on how to register will be shared at a later date.
Art Auction '21 Artists*
Nick Aguayo
Lita Albuquerque
Dan Anderson
Janine Antoni
Stephanie Bachiero
Blake Baxter
Kelly Berg
Luc Bernard
Linda Besemer
Carlos Carulo
Nick Cave
Michael Childers
Gerald Clarke
Max Cole
Jonathan Cross
Kenturah Davis
John Divola
Teresita Fernández
Tom Friedman
Genevieve Gaignard
Sara Genn
Jeffrey Gibson
Gonkar Gyatso
Arturo Herrera
Scot Heywood
Jim Hodges
Jim Isermann
Anthony James
Isaac Julien
Penelope Krebs
Liz Larner
Robert Longo
Kim MacConnel
Ryan McGinness
Robert Moreland
Andy Moses
Ed Moses
Vik Muniz
Helen Pashgian
Jack Pierson
Rob Pruitt
Brian Rochefort
Nancy Rubins
Alison Saar
Tom Sachs
Aili Schmeltz
Ryan Schneider

Alia Shawkat
Gary Simmons
David Simpson
Phillip K Smith III
Nellie King Solomon

Barbara Stauffacher Solomon
Tavares Strachan
Robert Therrien Estate
Do Ho Suh
Pae White
Andrea Zittel


Special contribution by Ed Ruscha, courtesy Gagosian Gallery

*as of 3.25.21
Sponsorships
PLATINUM SPONSORS
Bank of America
JoAnn McGrath
Sotheby's
GOLD SPONSORS

Richard C. Halton & Jean-Marc Frailong
MidMod Design
Leonard Majzlin
Kathy & Jim Simpson
TTK Represents
SILVER SPONSORS
Clayton Baldwin
Rebecca Benaroya
Deirdre Coit & Susan Canavan
Marcy & Leo Edelstein
Jane Emison & Mike Tierney
Susan Goodman & Rodney Lubeznik
Roberta Holland
Patrick V. Jordan / PS Properties
Kovler Family Foundation
Patsy & David Marino
Dorothy C. Meyerman
Nelson-Moe Group
Mary Ingebrand-Pohlad
Marguerite & David M. Wilson
AUCTION SPONSORS
Dean Ambrose
Arlene Amick / The Art Collective
Ellen Donaldson
Jessica & Gary Grace
Susie & Vahan Kololian
Melissa & Peter Koss
Dave Locke
Marilyn P. & Alan S. Loesberg
Keith Markovitz
Jennifer & Jason Mendelson
Ashley & Pat Patterson
Linda & Manny Rider
Jane Saltonstall
Susan & Kent Seelig
PATRON SPONSORS
Stella Adena / Rancho Relaxo
HomeLight, Inc.
Peter Waterloo & Jon Taylor
Sponsorship Opportunities
Palm Springs Art Museum respectfully requests your support as a sponsor of Art Auction '21 and is grateful for your consideration. In addition to the support recognition listed at the following levels, sponsors will be acknowledged in all Art Auction collateral materials and communications.
CLICK HERE TO SEE ALL THE BENEFITS
For information about the auction, the art, and sponsorship opportunities, contact Michael Hinkle, mhinkle@psmuseum.org or 760.322.4897.
Art Auction '21
Lots Begin Closing in