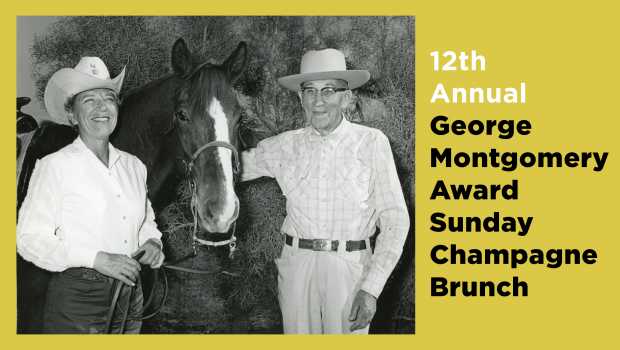 The 12th

Annual George Montgomery Award Sunday Champagne Brunch
Honoring
Jane Lykken Hoff and celebrating her 100th

Birthday.

Celebrate with festivities that include a reception featuring live music provided by a professional pianist, a lovely champagne brunch, centenary birthday cake, and the annual George Montgomery Award Ceremony. Bring a Friend!
Jane Lykken Hoff
The 2020 recipient of the George Montgomery Award is a Palm Springs pioneer. Jane is well known for being a remarkable horsewoman and heading up two historic riding clubs. She was the first woman president of the Los Compadres Club in 1964/65, and the "round up boss" of the Desert Riders from 1970 to 1972. Early pioneers, important business leaders, society mavens, and Hollywood celebrities all sought membership in these prestigious riding clubs. Jane was also one of Palm Springs Art Museum's early advocates for the collecting of western art.
Carl Lykken
The celebration of Jane's 100th Birthday will also include a salute to her parents, and a special nod to her father, Carl Lykken who arrived in Palm Springs in 1913 and purchased a small grocery store on Palm Canyon Drive that he expanded to include the town's first department store, a hardware store, and a post office. Carl was also the museum's first board president in 1938 when it was established as the Palm Springs Desert Museum.
Program:
Date: Sunday, February 9, 2020
12:00–1:00 p.m. Reception/Buffet Brunch
1:00–2:00 p.m. 100th Birthday Acknowledgement/Award Ceremony
Details
Attire:

Desert Casual

Limited seating
Valet parking
RSVP by Friday, January 24, 2020
Buy your tickets
$125 per person ($60 tax-deductible)
Honor Jane with a tribute message:
Write a message for our honoree which will be included in the printed program, provided it is submitted before January 24, 2020.
Half page: $125 (fully tax-deductible)
Full page: $200 (fully tax-deductible)
Support the event by becoming a sponsor:
$500 – Cake Sponsor 2 tickets ($370 tax-deductible)
$1000 – Commemorative Program Sponsor 2 tickets ($870 tax-deductible)
$2500 – Champagne Sponsor 4 tickets ($2240 tax deductible)
$5000 – Brunch Luncheon Sponsor 6 tickets ($4610 tax deductible)
CLICK HERE TO BUY YOUR TICKET OR BECOME A SPONSOR
Thank you to the H. Earl Hoover Foundation for sponsoring this event.