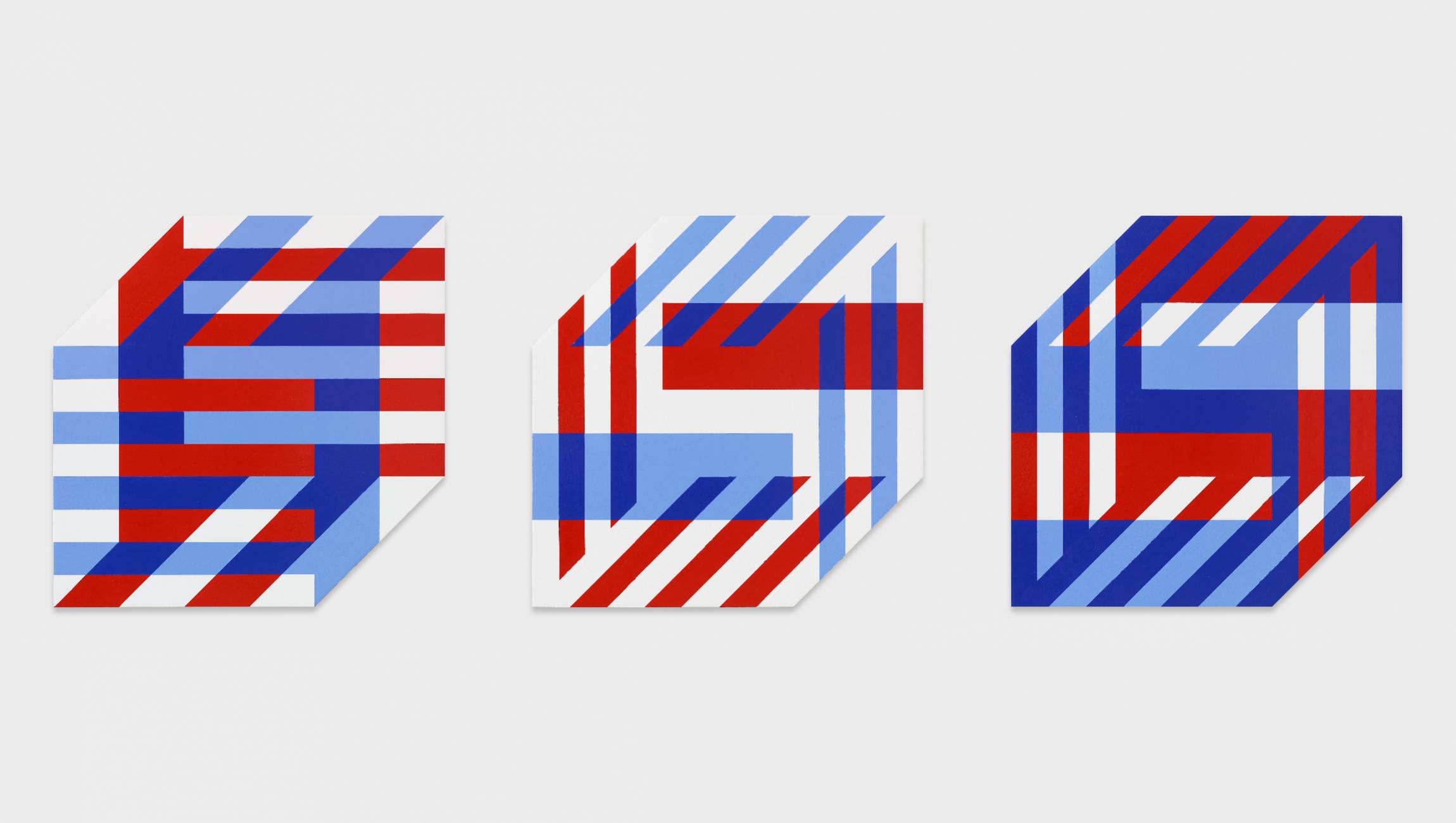 Jim Isermann, a longtime Palm Springs resident, has over many years built an artistic practice that encompasses painting, drawing, sculpture, site-specific installation, and product design. Pattern, color, geometry, and repetition are the cornerstones and the generators of his work in all mediums.
With inspiration ranging from Verner Panton to Op and Pop Art, from Sister Corita Kent to Supergraphics, and from modern architecture to interior decoration, Isermann's work is at once rigorous, logical, beautiful, and bold. The exhibition title refers to the fact that Isermann's work, almost always made in series, begins with the creation of a pattern and a system with a finite number of variations for generating that pattern.
The exhibition transforms Palm Springs Art Museum's Architecture and Design Center into an exuberant immersive environment that includes three main elements. Taken together, they underscore the richness and underlying themes and ideas of Isermann's work and his interest in creating a "total design" environment, or gesamtkunstwerk. In a newly constructed room within the Trina Turk Gallery, visitors will be immersed in a brilliant, joyous "garden" of paintings and sculptures from the artist's 1985–86 Flower series.
A new series of paintings inspired by the A+D Center's modernist glass-and-steel architecture figuratively encloses the Flower garden. And, like a metaphorical hedge enclosing the architecture and the garden, a temporary site-specific installation designed by the artist covers each of the building's glass panes, visible inside and out.
Check out this recent profile of Jim Isermann in Palm Springs Life magazine:
And here's a video tribute to Jim who was the honoree of the museum's Art Party gala in January:
---
This exhibition is organized by Brooke Hodge, Director of Architecture and Design.
Generous support is provided by Beth Edwards Harris and Edeltraud McCarthy.
Additional support is provided by L.J. Cella, Roswitha Kima Smale,

, and Linda Usher & Malcolm Lambe.
Funding is also provided by Nancy & Fred Baron, Geoffrey De Sousa & José Manuel Alorda, Ellen Donaldson, Jim Gaudineer & Tony Padilla, Mark Gauthier & Arthur Keller, Thomas C. Given & Jeffrey Wright, Susan D. Goodman & Rodney Lubeznik, Brooks & Brad Hudson Thomas and Matthew Reader, Bonnie Serkin & Will Emery, and James Spindler & John Vitale.
Exhibition Season Sponsors: David Kaplan & Glenn Ostergaard, Brautigam-Kaplan Foundation; the Herman & Faye Sarkowsky Charitable Foundation; the Mary Ingebrand-Pohlad Foundation; and Yvonne & Steve Maloney.
Images (left to right):
Jim Isermann, Untitled (8, 2, 4, in), 2017, acrylic on canvas over aluminum, 48 x 48 x 2 in., Collection of the Artist.
Jim Isermann, Untitled (3, 5, 7, in), 2018, acrylic on canvas over aluminum, 48 x 48 x 2 in., Collection of the Artist.
Jim Isermann, Untitled (3, 5, 7, out), 2018, acrylic on canvas over aluminum, 48 x 48 x 2 in., Collection of L.J. Cella.