Robert Motherwell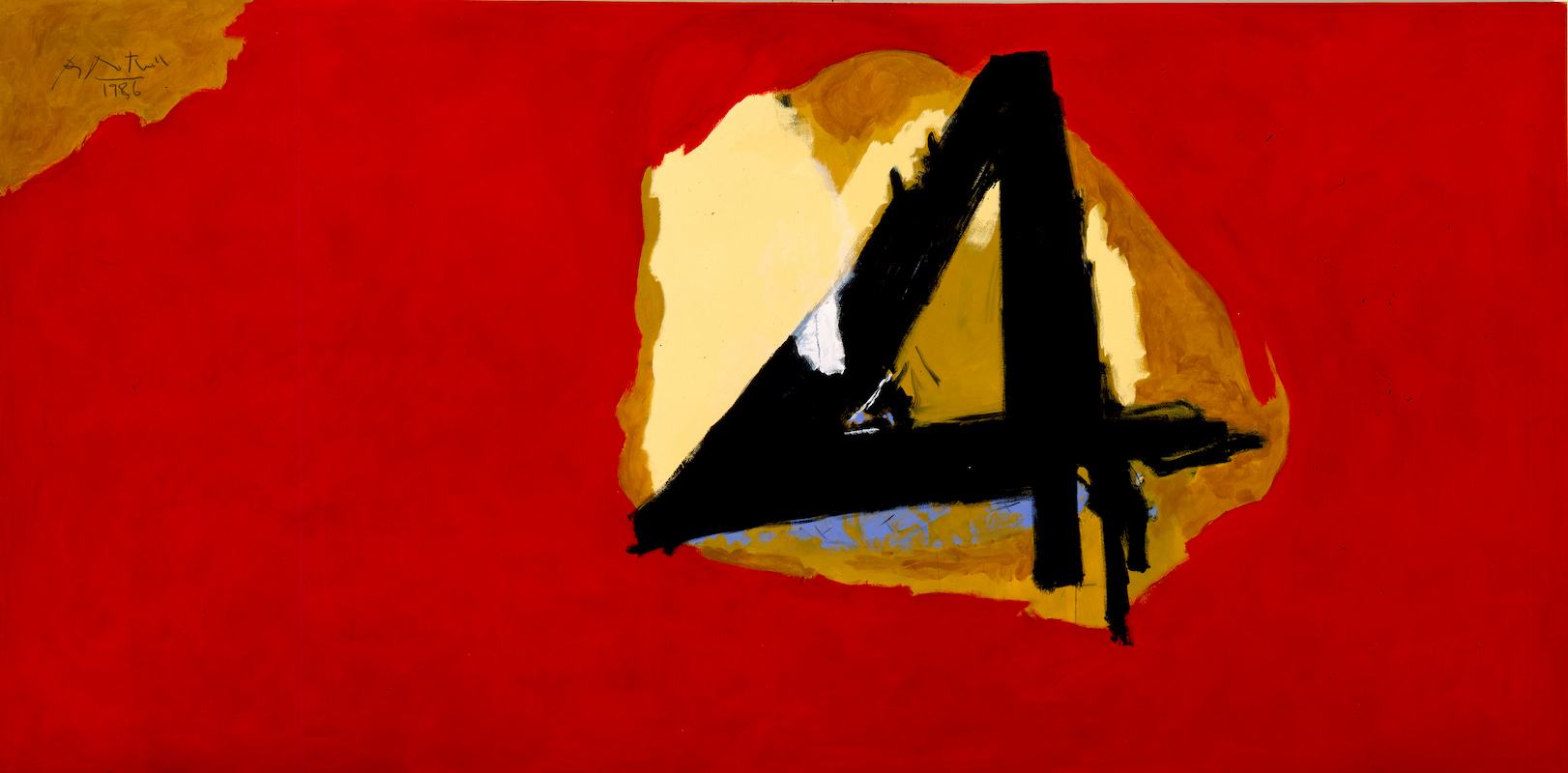 Robert Motherwell, American 1915-1991, The Big 4, 1986, acrylic and chalk on canvas, 84 x 168 inches. Gift of the Dedalus Foundation and museum purchase with funds provided by the Contemporary Art Council, Robert E. Armstrong, Donna J. and Cargill MacMillan, Jr., Edith and Edward F. Anixter, Leisa and David Austin, Helene Berman, Marian and Stanley Brown, Judy and Rogue Hemley, Fay and Frank Katlin, Annette and Theodore Lerner, Trudy and Alvin Levine, Muriel and Bernard Myerson, Edith and George Nadler, Shirley and Irwin Randolph, Irma and Irvine Robbins, Gladys and Sam Rubinstein, Neal Schenet, Thelma and Gilbert Schnitzer, Munzi and Henry Shweid, Hortense Singer, and Sidney and Erik Williams in memory of Mari Williams, 1998, 3-1998.
Robert Motherwell was a leading member of the generation of painters associated with Abstract Expressionism. Mostly based in New York City, the Abstract Expressionists were inspired by surrealism, including the notion that art stemmed from the unconscious mind. Abstract Expressionists tended to fall into two main groups: action painters, who utilized gestural brush strokes; and color field painters, who utilized large and broad swaths of saturated color. Over the course of his career, Motherwell took up both of these approaches.
After studying in California in the late 1930s and then in New York in the early 1940s, Motherwell traveled to Mexico for six months with European Surrealist Robert Matta before joining a circle of artists in New York that included Willem de Kooning, Hans Hofmann, and Jackson Pollock. In 1943, he produced a series of works in response to World War II, demonstrating the emergence of the political underpinnings of his abstraction, which is evident in the series for which he is best known, Elegy to the Spanish Republic (1953-1954), reflecting despair over the Spanish Civil War.
In addition to his work as a painter, Motherwell is also known as a teacher, notably at Black Mountain College in North Carolina, and as a writer, his most influential literary achievement being The Dada Painters and Poets: An Anthology (1951). Motherwell and painter Helen Frankenthaler were married from 1958 to 1971.
Motherwell used the number four in several works beginning in 1960. Influenced by the psychoanalyst C. G. Jung's theories concerning the symbolism of numbers, Motherwell indicated the number four represents a creative background or a life-producing agency. In The Big Four, he paints the number as if it were bursting through a portal, with bold linear slashes breaking through an expansive red field.
Nampeyo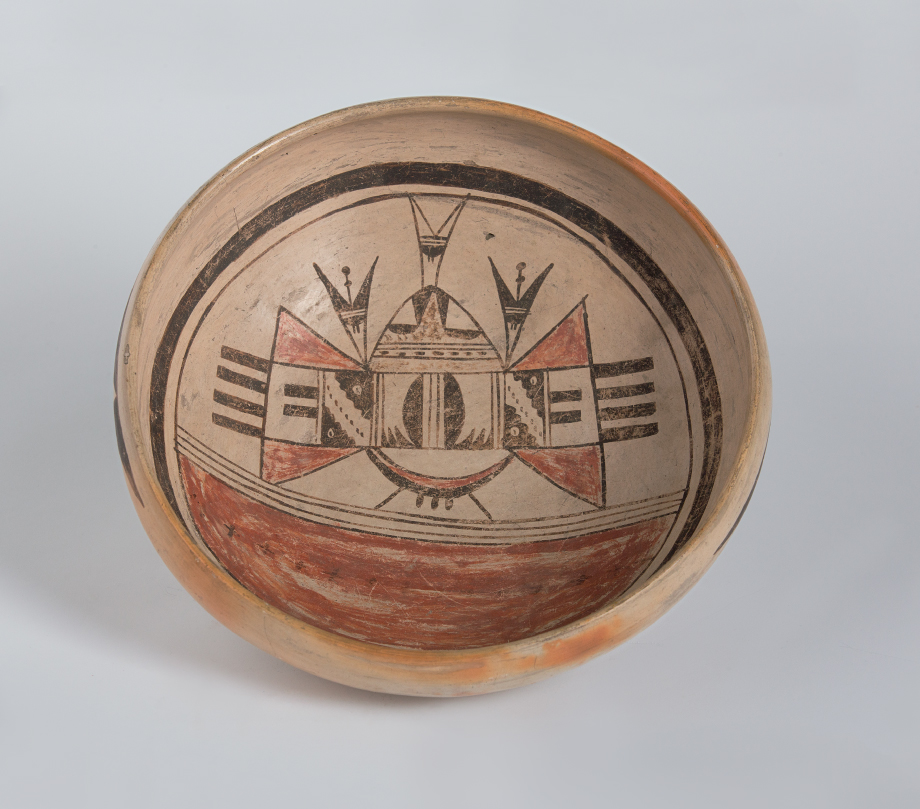 Attributed to Nampeyo (Hopi-Tewa, c. 1860–1942), Polychrome Bowl with Mythical Bird or Butterfly Design, c. 1910, polychrome ceramic, 4 x 10 ¼ inches. Gift of Winifred Little from the F. A. Little Collection, A13-1972.139.
Nampeyo, considered one of the finest potters of the Southwest, is credited with reviving Hopi pottery in the late-nineteenth century. She gained renown for her Sikyátki-inspired multi-colored designs which looked to ancient pottery forms and methods while reinterpreting them in her own unique style. (Sikyátki is the name of an ancient Hopi village occupied from the fourteenth to the seventeenth century.) Nampeyo painted abstract designs, geometric patterns, and anthropomorphic figures on her coiled pots, utilizing materials and techniques of her ancestors. Known for her graceful, curvilinear motifs and balanced compositions, she refined and perfected her skills until 1925, when she became blind. After that time, she relied on members of her family to paint her designs, but she continued to form her pots through touch.
Outlined in black, with red accents, and animated with elaborate decorative elements, the mythical creature in Polychrome Bowl with Mythical Bird or Butterfly Design appears actively in flight. A pair of wings is attached to the tear-drop shaped body, with white triangles for eyes, while a long-forked tongue is complemented by a pair of forked-legs. Encircled by a black border, the central space is delineated by a red, crescent-shaped area suggesting the horizon—or possibly a distinction between earth and sky, or night and day.
Nampeyo's influence on other Hopi potters continues today, and her pottery designs have become the legacy of her Corn Clan descendants. Her artistic lineage also extends to her great-great-grandson, contemporary painter and sculptor Dan Namingha (whose work is in Palm Springs Art Museum's collection), and his two artist sons, Arlo and Michael.