Activity 1:
Create an Ofrenda
Create an ofrenda or altar at home to remember your loved ones.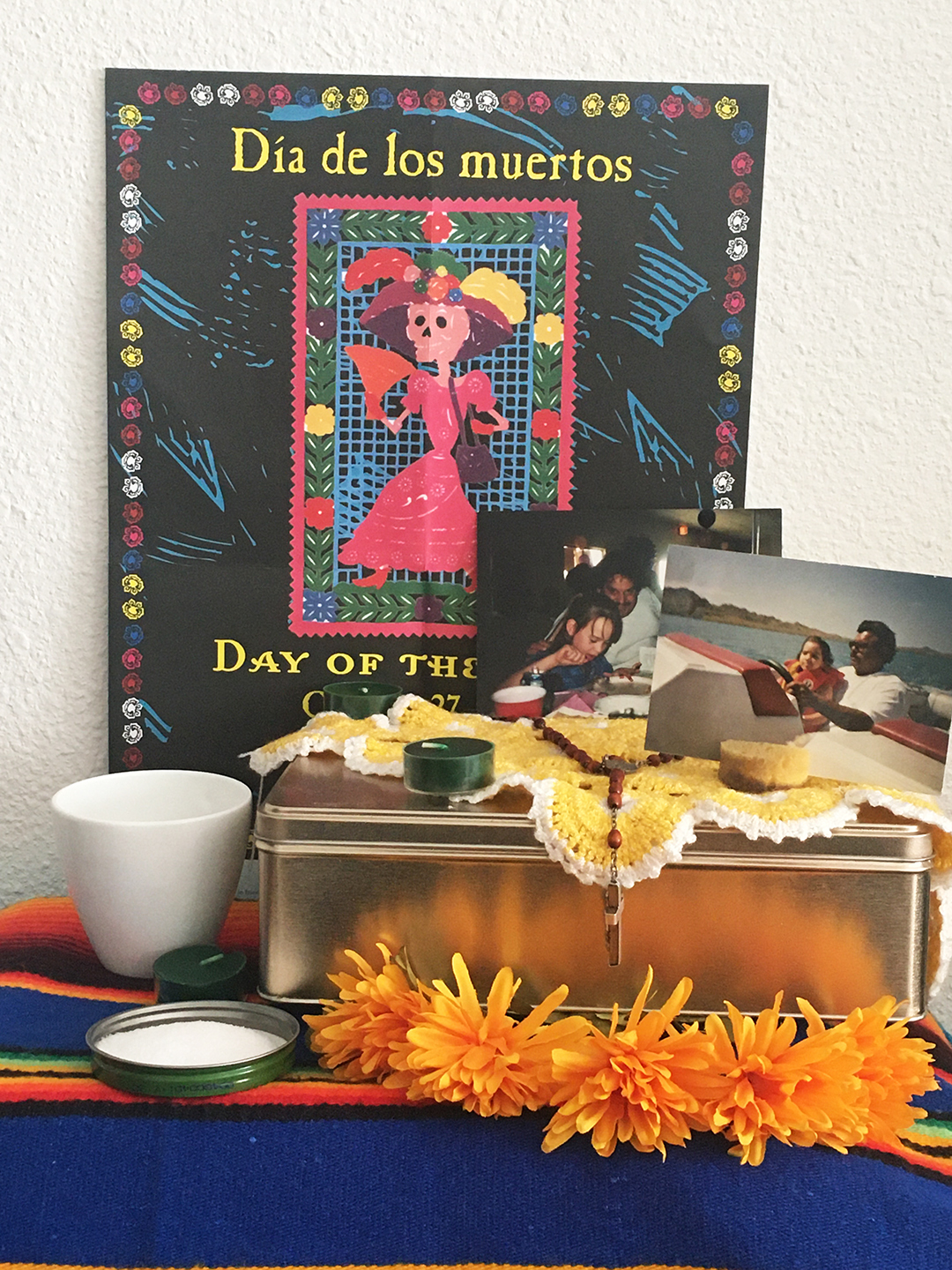 Elements of an Ofrenda:
Fire: Candles and torches are symbols of love for deceased relatives and are guiding lights for the spirits.
Papel picados are usually made out of tissue paper. Typically in yellow and purple, their intricate designs represent the union between life and death and how fragile that union is.
Flowers are not only a beautiful visual addition to the altar, but each type has specific meaning. Marigolds or cempasúchil are guides for the spirits into the mortal world because of their bright color and strong scent. (Scroll down to find out how to make paper marigolds.) White flowers represent the sky or heaven. Purple flowers are the color of mourning in Mexican culture.
Incense or copal (an aromatic tree resin used in indigenous ceremonies) is placed on the altar. It is a way to purify the souls of the dead and to ward off evil spirits.
Water is placed on the altar to quench the thirst of the souls who have traveled a long way. It also strengthens them for their journey back.
Salt is usually placed on a plate and stops the souls of the departed from becoming corrupt by earthly temptations.
Banquet: an offering to loved ones providing their favorite food and drinks. Traditional Day of the Dead food offerings are Pan de Muerto (bread of the dead), rice, mole, pumpkin, jicama, oranges, sugar cane, and fruits of the season.
White cross: A cross is drawn on the ground under the altar to represent the four elements, earth, air, fire, and water. It is traditionally made with slaked lime (a white calcium powder).
Calaveras or skulls represent deceased relatives. A popular kind of calavera is a candied skull made of sugar or chocolate decorated with designs and often including the name of the deceased. Calaveras are often eaten by children after the celebrations. (Scroll down for Calavera coloring pages.)
Step 1
Select the person or persons you will create an ofrenda for. This might be a loved one who is no longer living or a favorite person in history. Use a photo, draw a picture, or collect an item to represent who you are making your altar for.
Gather your ofrenda items. Use the Elements of an ofrenda (above) to guide your selection. You do not have to include all items, but you might select a few.
Step 2
Decide where you would like to display your ofrenda. It might be on a table, bookshelf, or night stand.
Step 3
Cover your display area with fabric or a table cloth and start assembling your altar!
Some altars place elements on different levels instead of just on a flat surface. Ofrendas can be as high as seven levels. Two levels represent heaven and earth; three levels show heaven, purgatory, and earth; and seven levels represent the steps the soul has to take to get to heaven.
You could create different levels of your ofrenda with books or boxes, but no matter how high or low, big or small, remembering and celebrating is the most important part.
Step 4
Arrange your items around the image of the person or people your altar is for. If you have a papel picado, hang it on the top of your ofrenda or along the table.
After you have finished arranging your items, take a moment to remember the person or persons your altar honors. Recall your favorite memories of them or family traditions you enjoyed together.
Learn how to make paper marigolds in the following activity and display them on your altar.