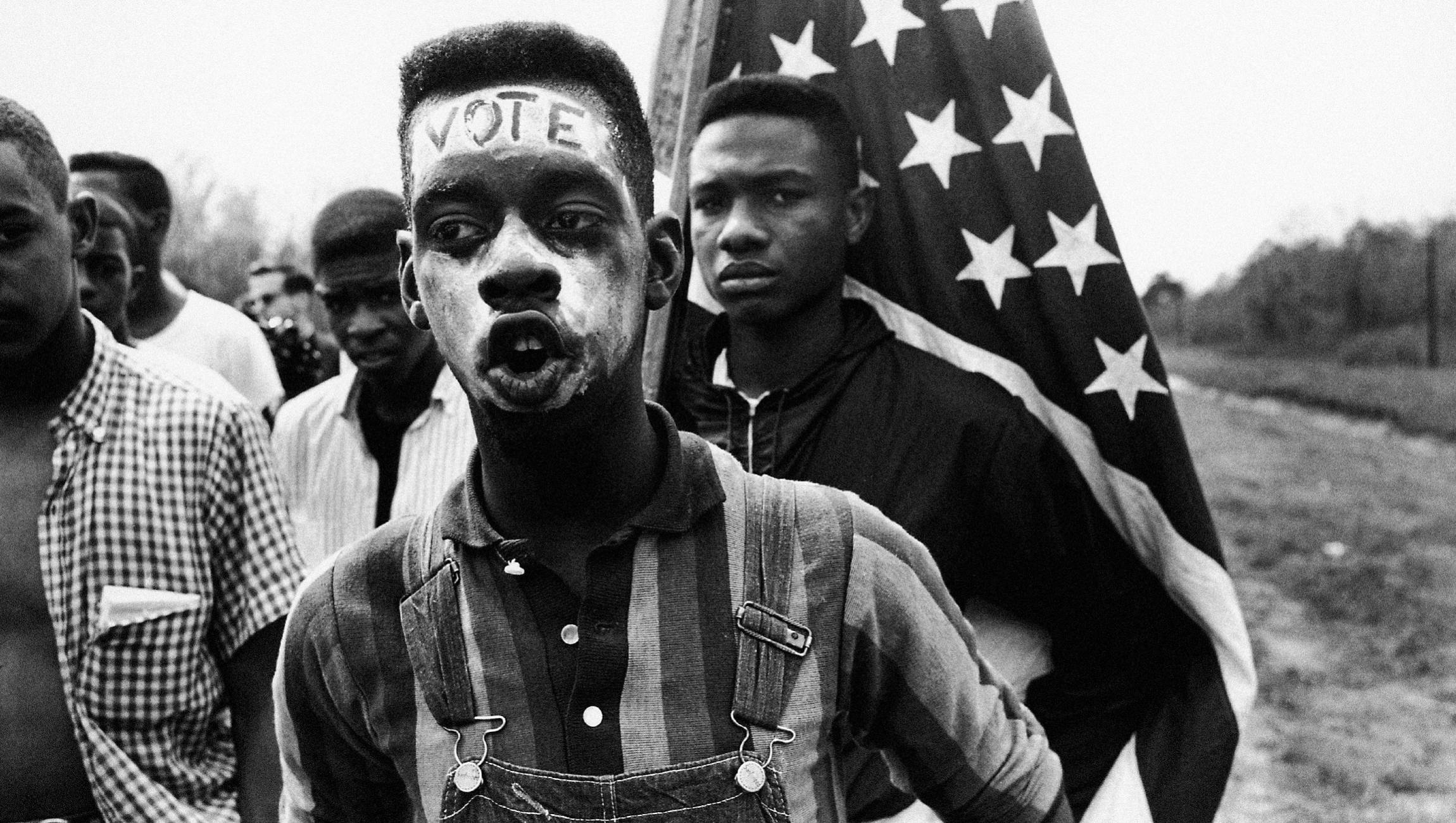 Imaging Change considers a range of photographic approaches to historical memory, and how the past can shape notions of self and community that are relevant to reflect upon at this moment.
As a point of departure, The Birmingham Project by Dawoud Bey is a 50-year commemoration to the victims of Civil Rights-era violence that connects the legacy of the 1960s to the twenty-first century.
For seven years, Bey worked with residents of Birmingham, Alabama, to create a tribute to the four girls and two boys who were killed by white supremacists on September 15, 1963—a day that tore apart a community and galvanized the Civil Rights Movement. Bey's sensitive and powerful photographic diptychs juxtapose two portraits of community members: one, a child, the same age as one of the victims, and another of an adult the age he or she would have been 50 years later. The project communicates a history of intergenerational trauma, capturing the human impact of tragedy and the hopeful possibilities of the future.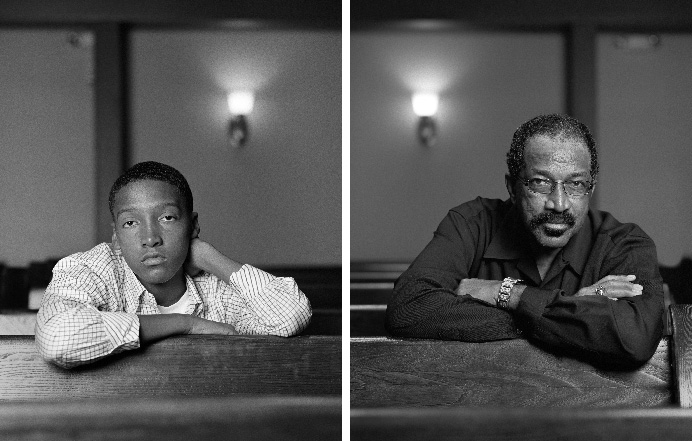 Dawoud Bey, Braxton Mckinney and Lavon Thomas from Birmingham: Four Girls, Two Boys, 2014,
pigment on paper, 16 x 25 ¼ inches, Collection of Vicki and Bill Hood, Courtesy Stephen Daiter Gallery
Using Dawoud Bey's project as a model, this exhibition presents the photographic work of artists who explore ways in which the past shapes conditions of contemporary life.
Artists such as Vik Muniz and Kota Ezawa repurpose iconic documentary images to create works that underscore their impact on our collective consciousness. Jennifer Karady and An-My Lê visit physical sites fraught with memories, working with stand-ins --individuals, communities, and their own bodies—as tools of performance to engage with history and place.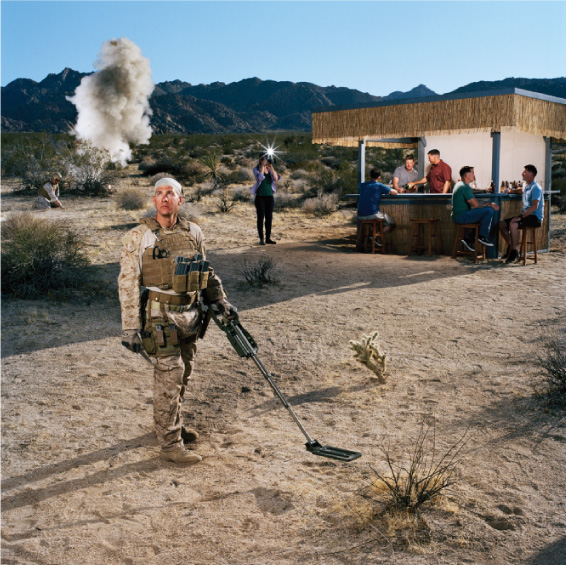 Jennifer Karady, Staff Sergeant Kyle Winjum, Explosive Ordnance Disposal Technician, U.S. Marine Corps, veteran of Operation Enduring Freedom and Operation Iraqi Freedom, with fellow Marines, from In Country: Soldiers' Stories from Iraq and Afghanistan, 2014, Fujiflex Super Glossy optical c-print, 48 × 48 inches, Museum Commission with funds provided by Palm Springs Art Museum's Photography Collection Council
Lorna Simpson and Dinh Q. Lê use anonymous photographs from photo booths and passports to channel the spirits of overlooked, forgotten peoples, and to honor their personal pursuits of identity and selfhood.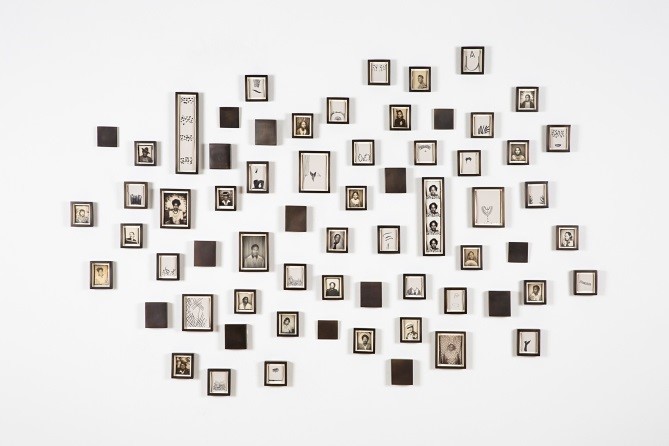 Lorna Simpson, Outfit Patterns, 2014,
bronze, photo booth photographs and ink - 65 total elements: 25 found photo booth portraits,
25 ink drawings on paper, 15 bronze elements, (missing dimensions), Collection of David Knaus, © Lorna Simpson
In positioning the photographic object as a productive site for healing and change, the exhibition illustrates the social histories and conditions from which several of these investigations have emerged. Contemporary works are shown in the context of photographic chronicles of significant moments of social upheaval in the 1960s in the United States.
Images by Eve Arnold, Paul Fusco, Bruce Davidson, Hiroji Kubota, and Danny Lyon capture the mechanisms of social and political conflict, including structures of power and resistance.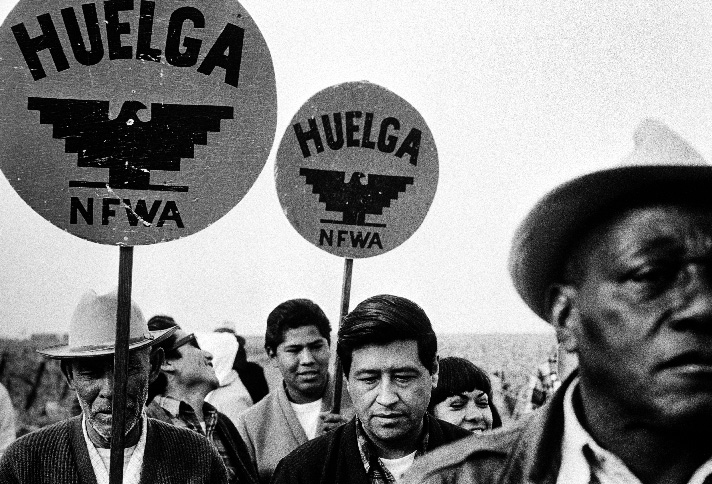 Paul Fusco, California Grape Strike. Cesar Chavez, 1966 © Paul Fusco/Magnum Photos
Artists in this exhibition include:
Eve Arnold, Dawoud Bey, John Burke, Bruce Davidson, Walker Evans, Kota Ezawa, Christina Fernandez, Donna Ferrato, Leonard Freed, Paul Fusco, Lewis Wickes Hine, Pirkle Jones, Jennifer Karady, Hiroji Kubota, An‑My Lê, Dinh Q. Lê, Danny Lyon, Duane Michals, Lewis Morley, Vik Muniz, Patrick Nagatani, Wang Qingsong, Mark Ruwedel, Simon Norfolk, Marc Riboud, and Lorna Simpson.
Banner images credits:
Bruce Davidson, Alabama. Led by Martin Luther King Jr., a group of civil rights demonstrators march from Selma to Montgomery to fight for black suffrage. A young African American man with the word "VOTE" on his forehead, 1965, exhibition print © Bruce Davidson/Magnum Photos
Dawoud Bey, Betty Selvage and Faith Speights from Birmingham: Four Girls, Two Boys, 2014, pigment print on paper, Collection of Vicki and Bill Hood, Courtesy Stephen Daiter Gallery.
---
This exhibition is organized by Mara Gladstone, Associate Curator at Palm Springs Art Museum
Generous support is provided by Carol & Jim Egan, Vicki & Bill Hood and

Exhibition Season Sponsors: David Kaplan & Glenn Ostergaard, Brautigam-Kaplan Foundation; the Herman & Faye Sarkowsky Charitable Foundation; the Mary Ingebrand-Pohlad Foundation; and Yvonne & Steve Maloney.