The Evolution of the Permanent Collection
The permanent collection of most public museums comprises acquisitions that originate through either purchases or gifts. Palm Springs Art Museum's collection is no different.
We have been fortunate to receive important gifts of art from a number of donors over our more than 80-year history, and you will see many of these works on view when you visit the museum. Works of art offered as donations are researched and vetted by the curators and director, and then considered by the Collections Committee comprised of members of the Board of Trustees and other specialists before being recommended by the full board.
Palm Springs Art Museum's world-class collection currently totals over 12,000 objects concentrated in areas of Architecture and Design, Art of the Western Americas, Modern and Contemporary Art, Photography, and Studio Glass. The collection also includes architect Albert Frey's iconic masterpiece Frey House II, located on the hillside above the museum.
Additionally, the museum houses over 50,000 items in special collections, comprising archival and other materials, such as architectural drawings, photographs, historical objects, and ephemera directly related to the collection. These special collections serve as primary source material for the museum's curators and for researchers.
The History: In 1967, the board voted to officially add fine art as a museum collecting focus. After that decision, Olga and trustee Joseph Hirshhorn donated the first modern art acquisition, a 1966 untitled gouache on paper by Alexander Calder. This established the fine art collection and many other art donations followed. In 2005, Palm Springs Desert Museum adopted a new name—Palm Springs Art Museum—to reflect its exclusive focus on fine art with a multidisciplinary performing arts program.
There have been a number of extraordinarily generous individuals and families whose significant contributions of artworks and of architecture have been critical to building and growing the strong collection we have come to treasure here in Palm Springs.
Below, we trace the evolution of the permanent collection through this series of transformational gifts, significant art donors, and the shaping of our artistic legacy for the future.
Marilyn Pearl Loesberg and John Renner contributed to the museum collection in a different way—through their many leadership roles as well as through their generosity of gifts. Over many years, each was actively involved with various committees and councils, and, in the case of Loesberg, the board as well. Their passion, knowledge, support, and funding towards art acquisitions, exhibitions, and projects were critical to the ongoing evolution of the art collection.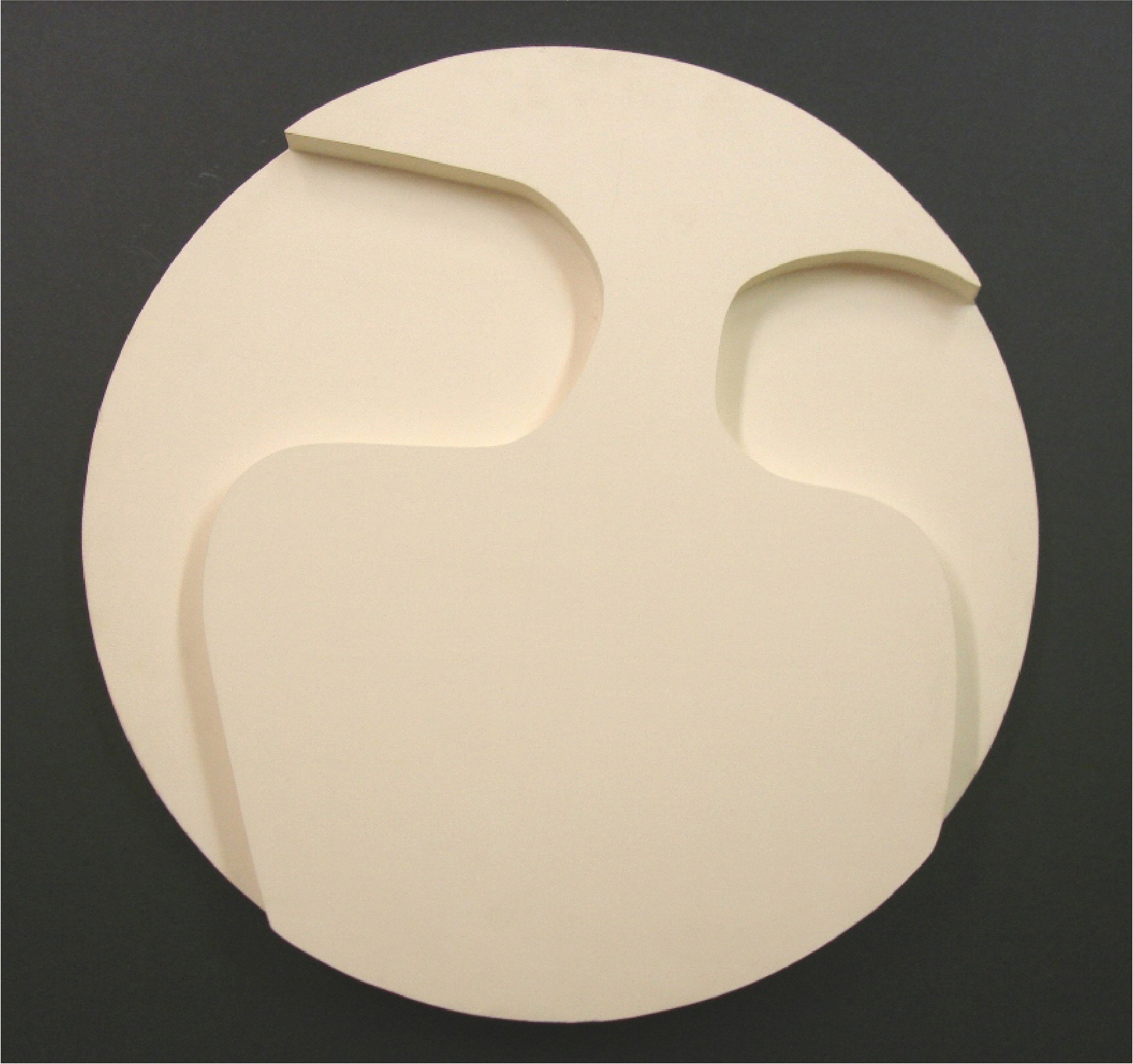 Leon Polk Smith (American, 1906-1996), White Flower A, 1961, painted wood, 23 3/4 inches diameter. Gift of Marilyn Pearl Loesberg and Alan Loesberg, 113-2010.
Marilyn Pearl Loesberg joined the Board of Trustees in 2003, and during her long tenure she has served on the Executive Committee, the Development Committee, and the Collections and Exhibitions Committee. During her affiliation with the museum, she has held many additional roles and participated in a number of other museum committees, including Contemporary Arts Council (President), Photography Collections Council (Vice President), Collectors Forum, and Museum Councils Committee. She also chaired the Artrageous Auction in 2008.
However, Marilyn's longstanding dedication to the Collections and Exhibitions Committee, which she currently co-chairs with fellow Trustee Leonard Eber, is where she has played her greatest role in terms of the evolution and growth of the museum's art collection. Since becoming Chair of the Collections Committee in 2006, she has worked closely with multiple museum directors and curators—as well as with numerous other committee members—to consider works of art for acquisition through both purchase and gift. Her experience as an art gallery owner in New York City has been invaluable in providing guidance to the committee.
With her husband Alan Loesberg, she has donated a number of works of art to the museum, including Leon Polk Smith's outstanding White Flower A, which hangs prominently along with other midcentury paintings. Marilyn's parents, Selma and Carl Pearl, were also museum trustees, collectively from 1980 to 2002, and likewise donated works of art and financially supported the museum. In 1983, Selma co-founded the Contemporary Art Council, its main goal being to raise money to acquire works of art for the museum. In 2001, she became an Emerita Trustee.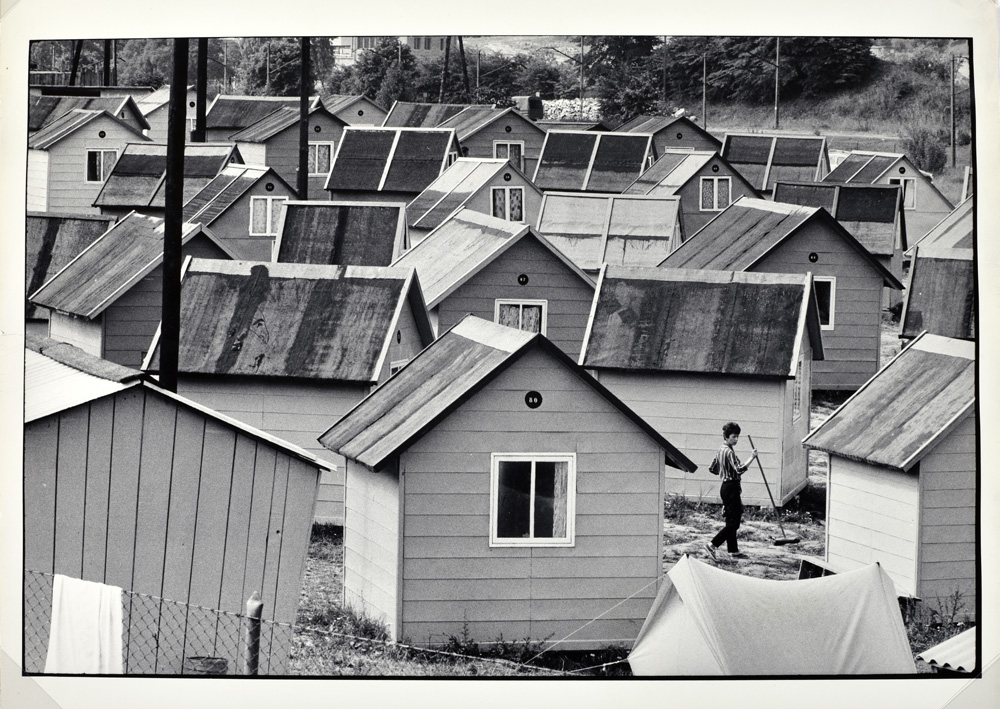 Elliott Erwitt (American, born France, 1928), Woman in midst of shacks, 1964, gelatin silver print, Sheet: 11 × 14 inches. Gift of Philip Gittelman and museum purchase with funds provided by John Renner, Photography Collection Council Chair, 2015.84.
John Renner was a passionate supporter of the museum for more than a decade and one of the earliest members of the Photography Collection Council, which began in 2008. He was Chair of the Council twice, from 2015 to 2016 and again from 2018 to 2019 at the time of his tragic death.
In 2015, he contributed funds towards the acquisition of 64 images by Magnum Photos documentary photographers. Renner regularly funded museum acquisitions, exhibitions, and conservation projects. He volunteered his time and expertise cataloging major photography gifts including those from Michael Childers' archive, and modern and contemporary photographs from the collection of Dr. and Mrs. J. Patrick Kennedy.
With the support of the museum and his close friends and family, the John Renner Memorial Fund for Photography was established in 2019 (see page 30). As a tribute to his passion for photography, all contributions made to this fund help to support the acquisition, conservation, and preservation of photography at the museum. This fund also honors John's dedicated leadership in strengthening the museum's photography collection.