Join us on the second Sunday of each month for a closer look at artworks from the permanent collection or special exhibitions, and participate in art-making, artist demonstrations, or activities.
Free 2nd Sundays are presented with the generous support from the
H.N. and Frances C. Berger Foundation.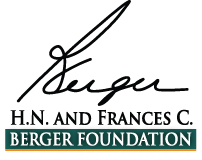 Program
Summer 2019 taps into the vast tapestry of creative makers who make the Coachella Valley their home, from the high desert all the way to the Eastern Coachella Valley. Each month the museum will feature local artists presenting their practice with local musicians, performers, and interdisciplinary artists activating the galleries and museum spaces.
Dive into summer to the sounds of Carlo Cortezz and the art of Abe Alvarez-Tostado.
Ambient lofi beats will saturate the museum galleries as live painting and art displays inspire you to create your own artwork.