A Tribute to Los Angeles Artist
Robert Therrien
by Daniell Cornell, Artistic Director
The Palm Springs Art Museum honors artist Robert Therrien, who died Monday, June 17, 2019. A quintessential Los Angeles artist, his downtown studio was a fabled gathering place for Southern California artists and arguably one of the places that nurtured the city's now current art scene. Many artists working in Los Angeles have cited the encouragement they received from him as the motivation that kept them going and fostered their belief in the power of art to engage with culture in a meaningful way.
Therrien weds popular culture references to a minimalist aesthetic, creating works that are beloved by the general public and the art historical-critical establishment alike. The museum is fortunate to have three works by Therrien in its permanent collection, one of which is his major sculpture of 1950s Franciscan plates enlarged to monumental scale. In this object, he works within the Surrealist tradition of the found object recontextualized to stir unconscious associations. Therrien asks viewers to reconsider their assumptions about the nature of art and its relation to their everyday world. His manipulations of scale create a dynamic and surprising experience that upends our usual expectations.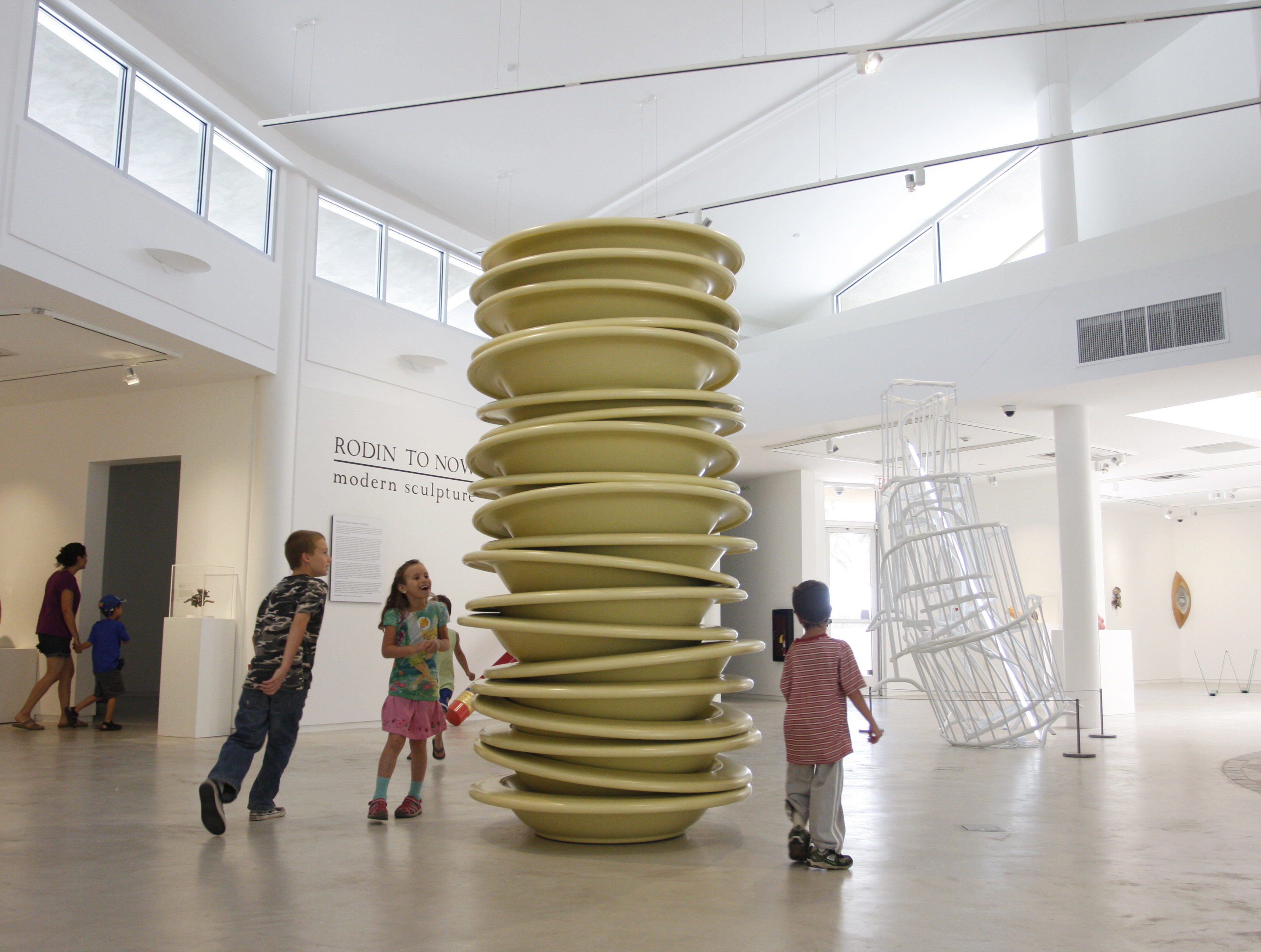 Robert Therrien, American, born 1947, No Title (stacked plates, butter), 2007, plastic, Overall: 94 × 54 × 54 in. (238.8 × 137.2 × 137.2 cm). Museum purchase with funds provided by the Contemporary Art, Council, Donna and Cargill MacMillan, Jr., and funds derived from a previous gift of Mr. and Mrs. Samuel H. Maslon
Mining the vocabulary of Conceptual, Op, and Pop artists who were influential during his formative years and schooling during the 1970s at the University of Southern California, Los Angeles, Therrien shares in their deceptively simple language of references to mass culture, cartoon forms, optical experiments, and industrial materials. In the sculpture, he brings a utilitarian domestic object from his youth into the realm of fine art. By turning common dinnerware into a candidate for serious contemplation, the artist slyly suggests that both the plates and the women associated with them are no longer constrained by the gender beliefs of midcentury American culture. That ideology defined the art world as a masculine sphere and dictated male concerns as the only proper subject matter for serious aesthetic engagement.
Therrien's ability to conjure a poetic sensibility out of ordinary experience renders a familiar memory strange. He mobilizes the mysterious realm of the uncanny and the emotions it evokes that are just beyond cognitive reach. His brilliance was to celebrate the commonplace even as he questions the conventions of art history on its own terms. Appropriating Constantin Brancusi's Endless Column (1938) at the same time as he echoes Andy Warhol's Brillo Box (1964) stacks, Therrien playfully brings Modernist aesthetics into dialogue with Pop Art.
His death leaves the art world without one of its most important voices at a time when we need his ability to address the issues of our time in a manner that is both mischievously serious and light-hearted.